The modern alt-Black girl manages to balance rebellion with authenticity like no other sub-group of Black girls. They connect with their highest creativity quicker and deeper than the rest of us. They are anomaly and oftentimes tap in swiftly and hold on tight to their dreams, dominating in their crafts. Formidable creatives like, sought after make up artist Raisa Flowersapocalypse writer Dianca Londonand scrotum focused artist Theresa Chromati represent the community of Black girls that includes musician Sudan Archives.
Los Angeles based violinist Sudan Archives is a Black American goldmine, a rara avis. She's a self-taught avant-garde composer who makes genre bending music in her bedroom. She poses for her website topless with floor length pink braids. She played a mind-blowing NPR Tiny Desk session, traveled the world, and she is still hello Black.
Her new album Natural Brown Prom Queen sounds like a dance between experimental violin and the souls of Black folks. Songs like "Ciara" and "OMG Britt" are sophisticated with a dash of stripclub ratchettness- like the "Church Girl" that Beyonce sings about. The vibe and flow of the songs are flightless, yet know exactly where they are going. On first listen the album is long, turbulent and too dangerous for the average listener. However, Sudan Archives's work has a way of protesting musical genres while growing on even the most pop influenced ears.
Sudan talks to LADYGUNN about dodging shady music biz politics, categorizing her newest work, Natural Brown Prom Queenas a rap album, and learning how to play violin in the church choir with her mom and cousin.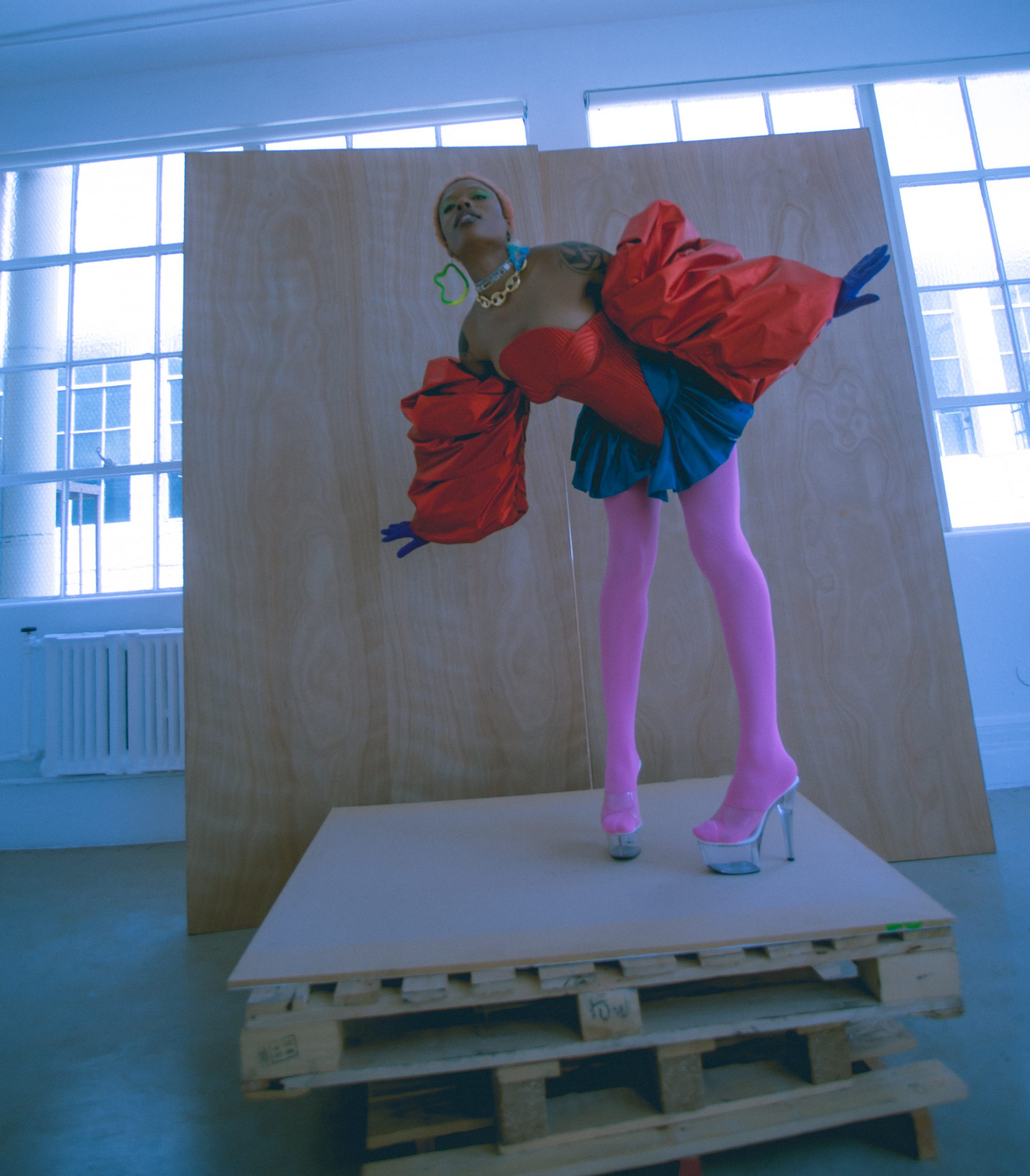 Start us off talking about the significance of topless lyrics and topless imagery in your records. One of your songs on Natural Brown Prom Queen is called "Topless" and on your website, you're topless, and it's a beautiful setup. What is the significance of being topless?
Yeah, I remember the first time I went to Barcelona, ​​I was sitting on the beach and I noticed that the women and the men and the kids, no one wore a swimsuit top. I was like, wow, you don't have to wear a top here as a woman? It seemed like nobody even cared about seeing topless women everybody was just a little bit more free in that way. Even the way that they greet each other is very intimate. I've always wanted to be able to not feel weird about not wearing a bra or not having a shirt. It always made me feel weird that guys can do it but girls can't. So I guess the lyrics come from that whole feeling. In "Topless" I talked about a lot of the society norms I face in America. I felt weird and worried about how direct I am in that song but I don't want to be dishonest.
What were you taught about nudity growing up?
I was taught that you definitely can't have your top off. In church your skirt has to be above your ankles. I was taught that it's kind of slutty if you dress revealingly and I always felt like I've had to cover myself up more.
Are a lot of the non-Black violin players that you came in contact with shocked that you're so authentic?
I would say that it's kind of tricky for me because I'm not really a part of the violin community in that way. I didn't grow up in orchestras and I had to move around to so many different schools. At one point I did go to Pasadena City College and I was in the orchestra there and I was one of only a few Black people. I'm kind of an outcast of the violin world. I would say I'm a black sheep. It's crazy but I don't have a lot of violin player friends that I could just hit up and play violin with.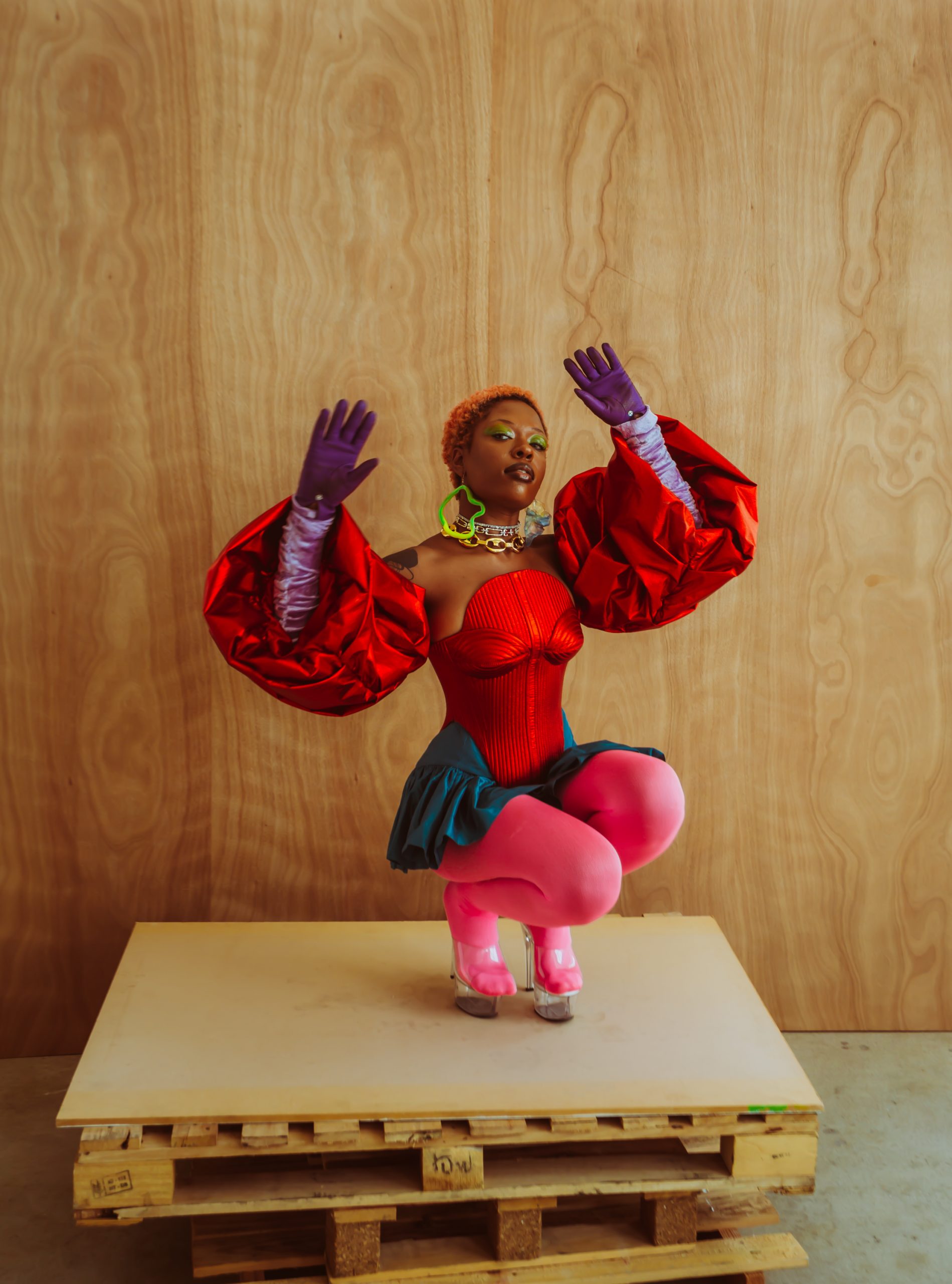 Top, SORAPOL LONDON. Gloved LARUICCI. TROY DYLAN ALLEN skirt. Earrings MY DAUGHTER IS BETTER THAN YOURS. Choker, ALEXIS BITTAR. Gold chain necklace, RORY ROCKMORE. Shoes, PLEASERS.
There's been so many different artists from all genres talking about how shady the music business has been to them. Do you feel safe in your craft?
I have a lot of artist friends that tell me their stories and their perspectives on what happened with their musical journey and they talk about the shadiness of the music industry. It's kind of crazy hearing their stories, because I feel like I've never experienced that. I've experienced microaggressions when it comes to being a woman in a man's industry but as far as my label deal, everything is going really well. A lot of people have crazy manager stories to say but I don't have any crazy stories to say. My manager is great and he's hella respectable. It feels like I got some kind of protection over me, like some generational ancestor protection thing. I don't know what to call it but it feels like I'm deflecting all the bullshit.
Would it be too far off to call Natural Brown Prom Queen a rap album?
I don't think it would be too far off compared to my other releases. I'm talking really fast, or rapping, and the lyrical content is really strong in this album. I don't think anyone's ever going to call it a rap album except for you (laughs). I think if it was considered a rap album, that's really cool. That's a cool perspective on it and I think that's tight. I could see it being an experimental, alternative rap album.
Yes. In that sense, how do you envision people living with your work? Do you ever envision people listening to your music? What does your audience appreciating your music look like for you?
I don't ever envision people listening to my music. When I'm on the plane I envision myself on the stage and I try to figure out what I'm going to do for the next show. You only get a taste of who really is listening by who's coming to the shows, you know?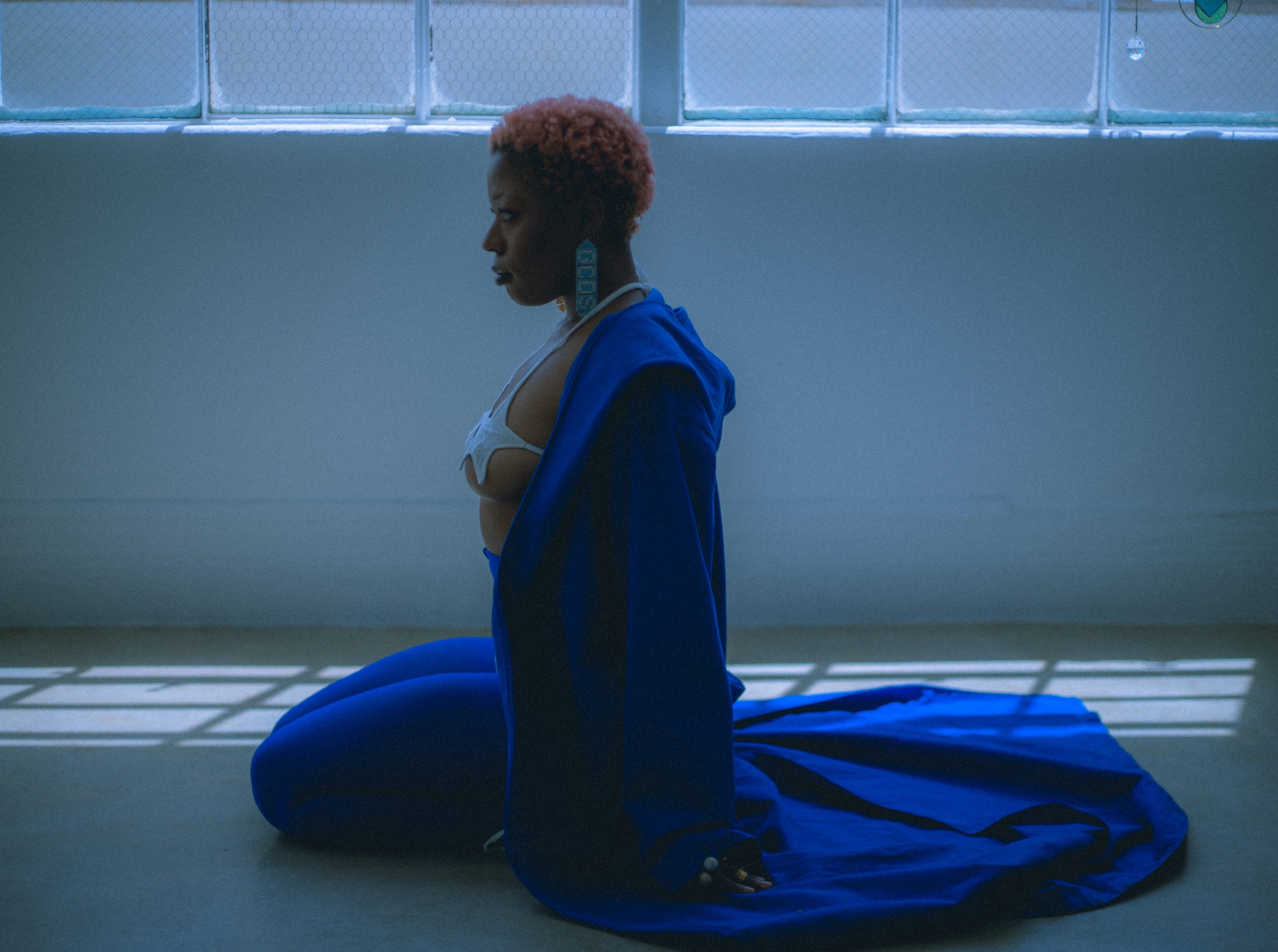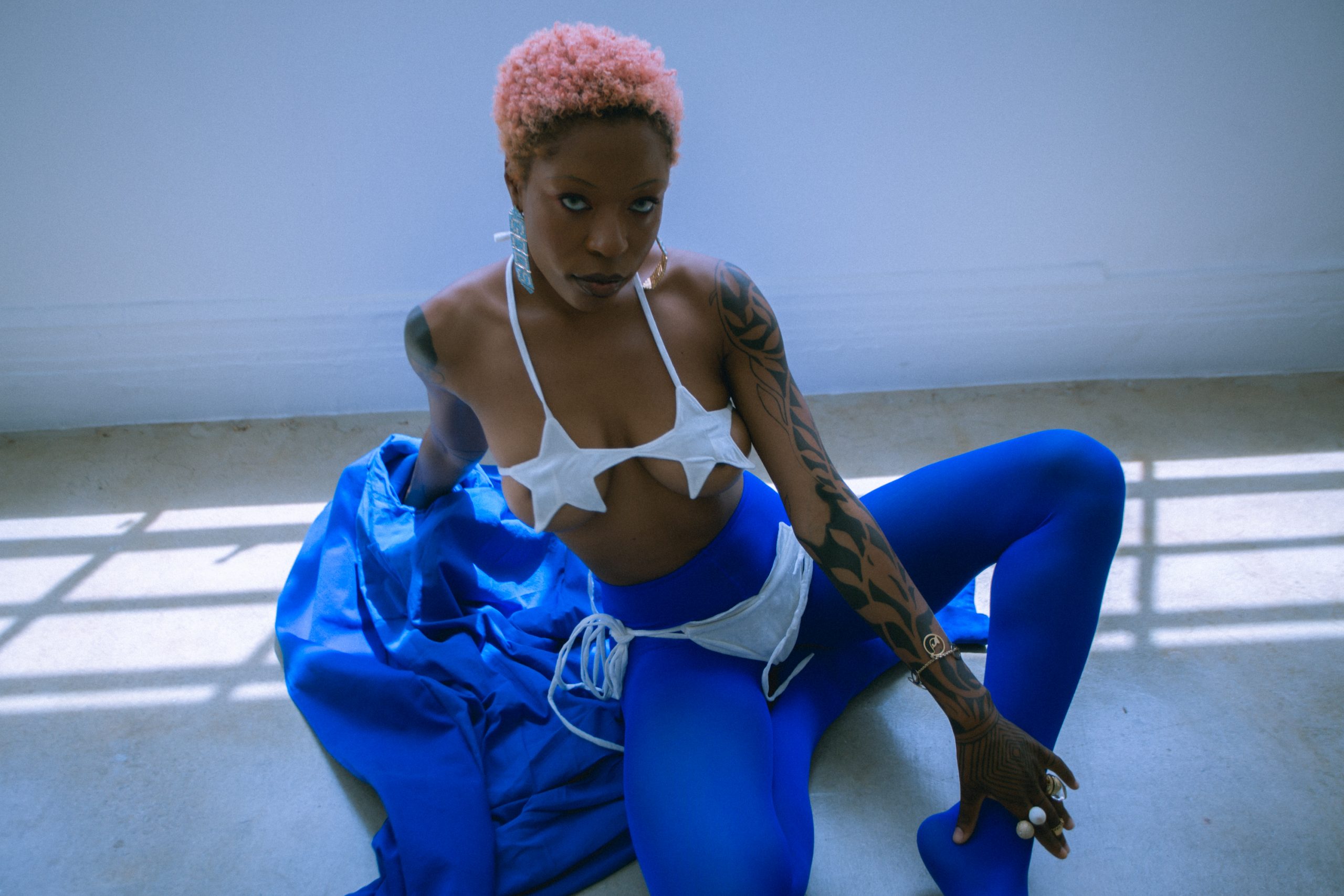 Speaking of shows, how far around the world has music taken you?
It feels like it has taken me all over. I've been to Japan and Barcelona and London and Germany and Switzerland and Copenhagen – a lot of places in Europe and the UK all around the US and Canada.
The line in "Do Your Thing", where the woman is saying "do your thing for God" is so holy. Can you talk about creating music for a higher power?
On "Do Your Thing" that's my cousin playing. He played piano in the church choir with me. I would have to listen to his playing and learn how to play violin parts on top of that. That's my mom talking over it telling me to go up in the choir and play. I wanted to tell that story of how I first got up and started teaching myself to learn by ear.
Does music make sense? Or is it otherworldly, like God?
Oh, I think it's otherworldly. Last night I was making a song and I don't know what happened but my violin sound ended up turning into the drums, the drums of the song. [Music is] magical and otherworldly.
Look, LARUICCI. Earrings, GCDS. Rings, ALEXIS BITTAR.
Have you played in any bands or with other musicians that people might be surprised to hear about?
No, I don't think I've ever really played in a band. That's the thing I'm trying to start to do now, play with other people and learn how to do that. Everything's been such a hermit thing- just me making music in my bedroom by myself. I've never been in a band though.
Those were all my questions. Do you have anything else you'd like to add?
What's your favorite song off the new record?
I really like "Copycat." It is hard for me to get past that idea of ​​somebody jockin my style. I don't know if I'm petty but I'm vulnerable about my work in that way so I really appreciated "Copycat." I really like "Ciara." "OMG Britt" is the song that made me realize that this was a rap album.
I'm rapping on "OMG Britt" but I don't think a lot of people would notice that.
We definitely embrace the alternative R&B genre. We need to embrace alternative Hip-Hop more.
Yes, we do. This was a cool interview.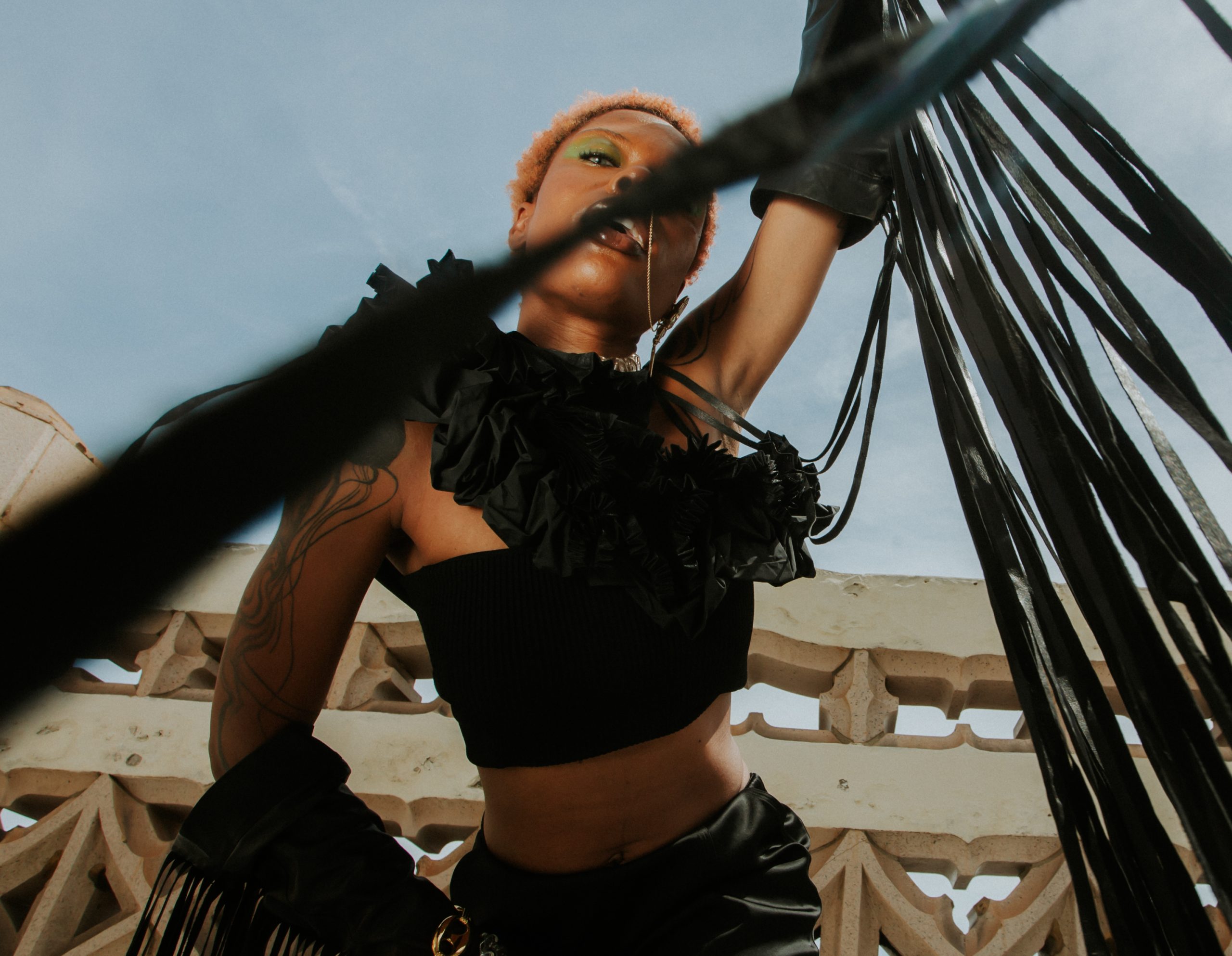 Look, ANGEL CHEN. ALBAMA BLONDE Gloves. Bracelet, RORY ROCKMORE.
Sudan Archives New Album "Natural Brown Prom" Queen Will Be Released On September 9th.
PHOTOS / RA
STYLING / PHIL GOMEZ
GLAM / LAURA DUDLEY
STORY /BRANDEN JANESE